Virtus "35 Your Way" Global Challenge (Open to All)
April 6, 2021

-

May 10, 2021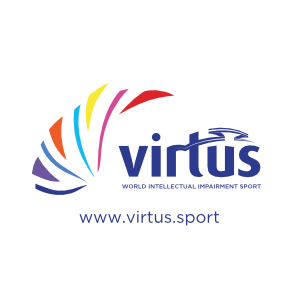 ---
Happy 35th Birthday Virtus!
Help us celebrate 35 years of Virtus support and competition for athletes with intellectual impairment by joining the 35 YOUR WAY challenge: walk, run, skip, swim, cycle, row, jump or get active your own way!

---
WHO:
Virtus Athletes, Family & Friends Around the World

WHAT:
35 YOUR WAY Global Challenges on Playwaze Platform:
• Walk/Run/Swim 35km (@22miles) in 35 days
• Cycle 350km (@218miles) in 35 days
• Row 35km in 35 days
• How fast can you do 35 skips / 35 star-jumps?
• Futsal/Football/Soccer: How many successful juggles can you do in 3.5 minutes?
• Basketball/Netball: How many goal shots can you do in 3.5 minutes?
• Racquet Ball/Table Tennis/Tennis/Badminton/Squash: How many ball-rally hits can you do in 3.5 minutes?
WHERE:
Wherever you are all around the World! (Virtual Competition)
WHEN:
APRIL 6th – MAY 10th (35 Days)
WHY:
2021 marks Virtus' 35th year of support and competition for athletes with intellectual impairment since its launch in 1986.  To mark the occasion, on April 6th (which happens to be the United Nations International Day of Sport Development & Peace) we're asking athletes, family and friends to join our #35YourWay to promote physical activity, raise funds for future Virtus opportunities, and help raise awareness for the positive contribution that sport can have on inclusion and human rights.
Scroll below to watch the Virtus video: "This is Our Time"
HOW:
Here's how to get involved in #35YourWay:
1. Download the Playwaze app from your usual app store OR sign up via the Playwaze website and click "register" at the bottom.
2. Registration fees are less than $5 US per challenge (GB £3.50 each). Enter as many challenges as you want.
3. Record your attempt, distance, time or total count manually or by using an activity tracking app like Strava, Fitbit and others.
4. Challenge your family and friends to join in the same challenge and compete on the Playwaze Challenge leaderboard.
5. Ask your family, friends and community to donate to Virtus' 35YourWay campaign to support your challenge.
6. Blog about your attempts and your challenge on social media using the hashtag #35YourWay
Watch the Virtus "This is Our Time" Video