2020 Virtus Global Cycling Challenge (Virtual Series)
October 12, 2020

-

December 13, 2020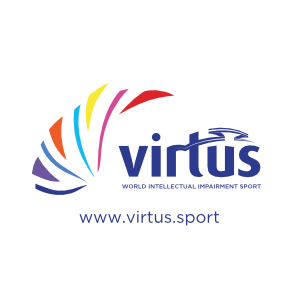 ---
The Virtus Global Challenge Series offers Virtus athletes the chance to remain connected to their sports and community while competing safely in their own environment. There will be events offered in several sports and the potential for more to be added. Within each sport, new challenges will be announced every three weeks for athletes to work towards and test themselves against  fellow Virtus athletes worldwide.
---
ABOUT THE CYCLING CHALLENGE:
The Virtus Global Cycling Challenge is an opportunity for athletes to log their cycling workouts using the Strava online fitness platform (athletes will need to sign up for a free Strava account using the link below).
The cycling challenge will run in three periods October – December:
• Period 1: Oct 1 – Nov 1 (winners announced Nov 2)
• Period 2: Nov 2 – Nov 22 (winners announced Nov 23)
• Period 3: Nov 23 – Dec 13 (winners announced Dec 15)
In each period, Virtus will publish a leader board (based on athlete's Strava data) for:
• Distance challenge (ie. most miles traveled in the period)
• Altitude challenge (ie. largest altitude gained in the period)
• Overall leader (a combination of miles & altitude in the period)
Separate leader boards will held for male/female athletes in the II1, II2 and II3 eligibility groups. The leaderboard will reset at the start of each period. Overall winners will be announced on Dec 16th.
GUIDELINES:
The Cycling Challenge is open to all Virtus athletes who have competed in cycling previously or would like to start.
Cyclists must have access to a suitable road bike and safety equipment.
Athletes may register at any time. Athletes who enter all 3 periods will be entered to the overall winner competition.
There is no fee to enter the competition, however each athlete must hold an 'Active' Virtus competition license. Licenses can only be renewed by your Virtus Member Organisation

[Which is Athletes Without Limits in the US, see Eligibility  & Virtus Licence payment information for US athletes below]

As the competition cannot be judged in the normal way, athletes entering do so in the spirit of fair-play and fair competition.
HOW TO ENTER:
Step 1: Confirm your Virtus Eligibility
You'll need a Virtus athlete number to enter the Global Challenge Series but it doesn't matter what sport you are usually in for the Global Challenge Series. For example a swimmer can enter the Cycling Global Challenge.
• If you've previously completed Virtus International Eligibility, you can look up your athlete number on our US Master List (click here) then skip to Step 2.
• If you've previously completed Provisional or National Eligibility, submit a request to Athletes Without Limits and we'll work with Virtus to arrange a National athlete number for the Global Series (click here)

• If you are a new athlete please start by completing our National Level Eligibility Application (download PDF)
Step 2: Virtus Annual License Fee Payment
There is no series event fee but Athletes must purchase a Virtus Annual License which costs $35 USD. You may then compete in any Virtus Global Challenge Series events for a year. IMPORTANT: When you click on the payment button below, please enter the Athletes Name under "Contact Details" and the Credit Card holders name under "Billing Details"
$35 Annual License Fee Payment
STEP 3: Sign Up for Strava
Sign up for a free Strava account, be sure to use the same email address when register with Virtus in Step 4 below.
Sign Up for Strava
STEP 4: Register for the Series (After you have a Strava account)
Complete the Virtus registration form below and Virtus will email invite you to join their Strava Cycling Group so that your riding will be tracked throughout the Series dates.
Cycling Entry Form