2020 Virtus Global Swim Challenge (Virtual Series)
October 23, 2020

-

December 13, 2020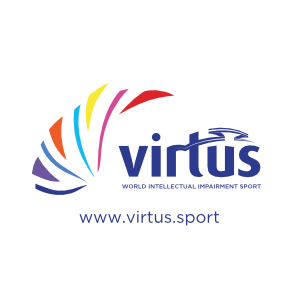 ---
The Virtus Global Challenge Series offers Virtus athletes the chance to remain connected to their sports and community while competing safely in their own environment. There will be events offered in several sports and the potential for more to be added. Within each sport, new challenges will be announced every three weeks for athletes to work towards and test themselves against fellow Virtus athletes worldwide.
---
ABOUT THE SWIM CHALLENGE:
Virtus has selected 13 major international open water and Marathon swim courses from around the world: The challenge is to perform as many of these swim distances as possible, in order, between October 23rd and December 13th 2020. [Note, US Athletes should plan to finish by December 12th due to time differences.]
There is no set place to swim — you can use a pool or swim in open water — but you must be able to accurately record distance and time.
After each stage use the online entry form below to submit your name, stage number and and time in (hours/minutes/seconds)and then move on to complete the next stage.
As you move through the stages the total distance you are swimming accumulates — the last column in the table below shows the cumulative or total combined distance swam which will be 95 km for athletes who complete all 13 Stages.
• The Swim Challenge is open to all Virtus athletes who have competed in swimming previously or would like to start.
• All swimmers must be swimming in a pool that is recognised by your National Federations. If in open water distances must be validated by a GPS tracker (garmin/fitbit/etc).Swimmers may register at any time and as many stages as they can through December 13, 2020 GMT [Note due to time difference US Athletes should plan to complete their swims by December 12th]
• There is no fee to enter the competition, however each athlete must hold an 'Active' Virtus competition license. Licenses can only be renewed by your Virtus Member Organisation [Which is Athletes Without Limits in the US, see Eligibility & Virtus Licence payment information for US athletes below]
• As the competition cannot be judged in the normal way, athletes entering do so in the spirit of fair-play and fair competition.
HOW TO ENTER:
Step 1: Confirm your Virtus Eligibility
You'll need a Virtus athlete number to enter the Global Challenge Series but it doesn't matter what sport you are usually in for the Global Challenge Series. For example a Rower can enter the Swim Challenge.
• If you've previously completed Virtus International Eligibility, you can look up your athlete number on our US Master List (click here) then skip to Step 2.
• If you've previously completed Provisional or National Eligibility, submit a request to Athletes Without Limits and we'll work with Virtus to arrange a National athlete number for the Global Series (click here)

• If you are a new athlete please start by completing our National Level Eligibility Application (download PDF)
Step 2: Virtus Annual License Fee Payment
There is no series event fee but Athletes must purchase a Virtus Annual License which costs $35 USD. You may then compete in any Virtus Global Challenge Series events for a year. IMPORTANT: When you click on the payment button below, please enter the Athletes Name under "Contact Details" and the Credit Card holders name under "Billing Details"
$35 Annual License Fee Payment
STEP 3: Swim & Submit Your Times
As you complete your swim stages use the form below to submit your time to Virtus. For example, Swim Stage 1, then submit your time below, then swim Stage 2 and use the form again to submit your Stage 2 Time, and so on for as many Stages as you complete.
Swim Stage Time Submission Form
RESULTS:
There will be a separate competition for males and females for athletes in each of the three Virtus Eligibility groups: II1-Intellectual Disability, II2 Additional Impairment Down Syndrome, II3 Autism+. Results will also be separated into two Age Groups: Youth (12- 18 years old; under 19 on 13th December 2020) and Adult (19 years and above). All swimmers who have submitted completed stages will appear on the Virtus website.