2023 Global Games France: US Team Information
Athletes Without Limits, the US Member of Virtus, is seeking qualified athletes to compete as part of the USA Team at the 2023 Virtus Global Games in Vichy, France. This will be our 5th Global Games trip since 2009 and we appreciate seeing US Team Members grow and develop through their participation in high-level Virtus International sport.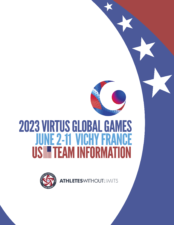 PDF Guides:
US Team Information & Cost Guide
Registration for the 2023 US Global Games Team has closed. To inquire if it's possible to be a late addition to our US Team please reach out by email using our inquiry form.
US Team Payment Form:
Registered athletes can use the form below to pay their registration fee and/or balance due March 23, 2023.
US Team Payment Form 
Key Dates:
JAN 30, 2023 

 

US Team Reg Form Opens
FEB 23, 2023 

 

US Team Reg Form and 50% Deposit Due (or pay in full and save $100)
FEB 23, 2023  Last day for new/National athletes to submit documentation and apply for Virtus International Eligibility
MAR 23, 2023 50% Balance due (by invoice from AWL or online payment form)
JUNE 2, 2023:  Athletes arrive Lyon Airport (LYS)
JUNE 11, 2023: Athletes depart Lyon Airport (LYS)
Global Games Qualification Standards:
Event qualifications vary by sport. Please see the 2023 Global Games PDF and the official Global Games website for the latest event and venue information available for each sport.
Three sports have minimum qualifying standards (MQS) to enter: Equestrian (athletes must have met a minimum score on a previous Virtus Video entry), Swimming MSQ and Track & Field MQS.
About US Team Selection:
In addition to meeting the Global Games qualifying standards in their sport, athletes must be able to stay with the US Team coaches and athletes in a separate hotel from parents/family throughout the Games. 
Experienced Athletes: In most sports we are aware of interested athletes such as those who have already met both eligibility and qualifying standards, completed the event interest form, and/or have travelled with Athletes Without Limits previously. These athletes should complete the US Team Reg Form and pay your 50% deposit by Feb 23, 2023.
New & Developing athletes who would like to be considered should also complete the US Team Reg Form — you can note you need to schedule a call with AWL staff to confirm eligibility guidelines (and sport entry standards) can be met and athlete is ready for International Team Travel before we invoice your 50% Deposit due Feb 23, 2023.
Letter of Invitation: Once you complete the US Team Reg Form (and interview if needed) we will send a formal Letter of Invitation to confirmed athletes that you can use to request time off work or school.
Virtus Eligibility:
Athletes must meet Virtus International Level eligibility criteria. To qualify in time for Global Games, US athletes who have not already completed full eligibility must submit their Virtus application to AWL with International documentation by Feb 23, 2023. Learn more and apply from our eligibility page.
See the 2023 Global Games PDF for a list of events offered by sport across three Virtus Groups below:
Virtus II1:

Intellectual Disability IDD


IQ 75 or Lower and Significant Limitations in Adaptive Behavior with testing within last 5 years (includes athletes w/Autism and IDD)
This group includes Para Table Tennis Class 11, Para Swimming Class S14, Para Track & Field Class T20/F20 and possible IPC Classification Appointments offered at the Global Games for those with Emerging Times toward US Paralympic Team Selection.
Virtus II2: 

IDD with additional physical or visual impairment or Tri21/Translocation Down Syndrome


This group offers separate time standards and medal opportunities for athletes with intellectual impairment who have additional physical or visual impairments.
Virtus II3:

Autism




This group is intended to provide opportunities for athletes with Autism who do not meet the IQ and Adaptive criteria for Virtus II1 above.
Questions:
The best way to reach us is to send an email through our Contact Us form.