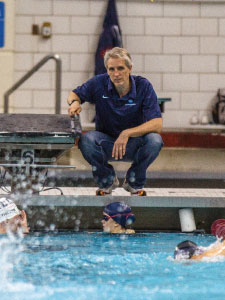 As President, Barry is Head Coach to the US delegation and provides overall leadership to the organization. He manages relationships with international and US sports governing bodies and was elected to the Inas International Executive Board in 2013.
Sport is Barry's first love and he has the scars to prove it. As a certified USA Triathlon, USA Cycling and USA Swimming coach he has helped numerous athletes achieve their goals, while also competing himself as an elite-level vegan triathlete and cyclist for over 10 years.
An opportunity to coach founding athlete Syd Lea in an Inas stage race in Portugal in 2008 was the inspiration behind wanting to open new doors for other US athletes with intellectual disability to compete at a higher level in sport than previously thought possible. Since then Barry has been instrumental in working directly with athletes, strategically with Inas as its first US Member, and with US Paralympics to bring about historic participation of athletes with intellectual disability in mainstream sport.
In addition to his coaching and leadership role with Athletes Without Limits, Barry  works on deep end juvenile justice reform as a consultant with the Annie E. Casey Foundation. He has served in leadership roles including Deputy Director of DC's Department of Youth Rehabilitation Services (2005-2012) which has been undergoing historic reform. Since earning his Masters degree from George Washington University, Barry has dedicated his professional career to social justice through research, advocacy and government leadership and his personal life to good training, good eating, good deeds and good friends.