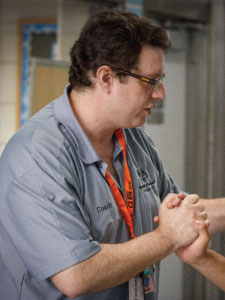 "Coach Pat" started the Atlanta-based Nautical Milers Swim Team with a few athletes and has built the program into the largest competitive swim team for athletes with intellectual impairment in the US.
He extends his expertise in shepherding swimmers through both the Athletes Without Limits Inas Eligibility and US Paralympic Swimming Licensing processes to any swimmer who applies to Athletes Without Limits — regardless of their home state.
In 2014 he lead a team of swimmers competing at the Ecuador Swimming Championships in Guayaquil and in 2015 served as Head Swim Coach to the US Team at the Global Games in Quito, Ecuador.
He is a certified USA Swimming and US Masters Swim Coach and resides in Marietta, GA with his family.