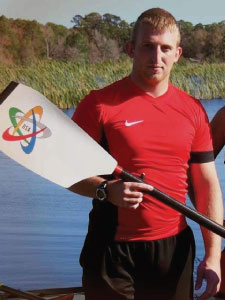 Athletes Without Limits supported me and my rowing partner when I began my Paralympic Rowing career. They've always supported vets and others with physical disabilities. We are one team with NO LIMITS!
Paralympic Medalist Rob Jones was involved with the startup of our ground-breaking integrated team of athletes and veterans with physical, visual, intellectual disabilities and non-disabled training and competing together under the guidance of Athletes Without Limits Rowing Coach and Program Director Patrick Johnson. Rob and his partner Oksana Masters went on to become the first US rowers ever to medal in their in their disability class at the 2012 London Paralympics where team "Bad Company" took home the bronze. Rob has spoken at Athletes Without Limits fundraisers and his journey is an inspiration to every athlete and person he meets. Rob is currently training in the sport of triathlon with intention to compete in the 2016 Paralympics.
To read Rob's full bio visit his websites at www.robjonesjourney.com and www.teambadcompanyrowing.com.