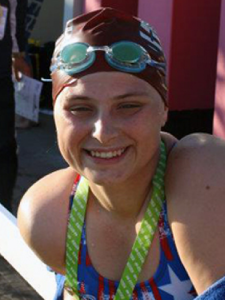 Sport(s):Â Swimming, Rowing
Hometown:Â Jacksonville, Florida
Swim Team: North Florida Swimming 
(USA Swimming Club)
Rowing Team:Â Jacksonville Rowing Club
Sarah began swimming at the age of 7 and hasn't looked back. While swimming with Special Olympics she and her father noticed the North Florida Swim Club training nearby and decided to Sarah was up for the challenge of training with and competing against non-disabled swimmers. Since then she has competed as a registered member of USA Swimming where she regularly earns competitive times in both short- and long-course events.
Sarah competed in her first US Paralympic-sanctioned swim meet this June, where she met the international qualifying times in 4 events (see below). This performance earned her a spot on Athletes Without Limits' 2011 Global Games US Team. She and teammate Leslie Cichocki (IL) will both train 4-6 days a week this summer in preparation for the September Games, where they will represent the United States against swimming powerhouses Australia, South Africa and other countries.
As part of her overall fitness and in anticipation for new Paralympic opportunities for athletes with intellectual disability in Rowing, Sarah has also begun training with the Jacksonville Rowing Club. Working closely with coach Victoria Mattie, we're confident she will be a strong addition to the club's integrated team as Sarah's greatest strength is her keen understanding of the power of positive thinking to improve both her own game and to inspiring teammates and fellow competitors to succeed. At the GTAC Paralympic swim meet this June, she caught the eye of the Officials who declared her as having the most team spirit of all the swimmers.
Competition Highlights:
2011 GTAC US Paralympic Swim Meet June
2011
Earned international qualifying times in 4 events listed below.
2011 US Team at Global Games Inas World Swimming Championships Loano, Italy 

100 Free  Time: 1:35.65
200 Free  Time: 3:26.83
400 Free  Time: 7:24.62
100 Fly    Time: 1:56.48

2014 Ecuador Swimming Championships US Team
Private Sponsors:
The following individuals and organizations provided Sarah with private sponsorship to help offset costs for competing at the 2011 Global Games in Italy. Thank you for your support and to those particpated in the benefit Car Wash and Dinners for Sarah!
Patrick Haines
Judith Zitiello
Monique Butts
Magdalena Sprinkle