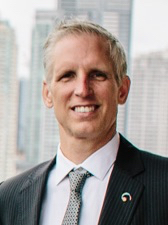 As Athletes Without Limits Co-founder and President, Barry is Head Coach to the US delegation and provides overall leadership to the organization. He manages relationships with international and US sports governing bodies and was elected to the Virtus International Executive Board (2013-current) where he currently serves as the Virtus Secretary General.

Sport is Barry's first love and he has the scars to prove it. As a certified USA Triathlon, USA Cycling and USA Swimming and Youth Nordic Ski coach he has helped numerous athletes achieve their goals, while also competing himself as an elite-level vegan triathlete and cyclist for over 10 years. An opportunity to coach founding athlete Syd Lea in an Virtus stage race in Portugal in 2008 was the inspiration behind wanting to open new doors for other US athletes with intellectual impairment to compete at a higher level in sport than previously thought possible. Since then Barry has been instrumental in working directly with athletes, strategically with Virtus as its first and only US Member Organization, and with U.S. Paralympics to bring about historic participation of athletes with intellectual impairment in mainstream sport.
Since 2015 (and the move of Athletes Without Limits National Headquarters to Bend, Oregon) Barry has been a cross country ski instructor with the Mount Bachelor Ski Education Foundation / Stevenson Youth Program and in 2016 launched a partnership to include Athletes Without Limits athletes in the program, with sights set on developing a high-performance US National Ski Team for athletes with intellectual impairment. As an experienced Triathlete and Coach Barry helped Athletes Without Limits' Sean O'Rourke make history by overseeing his training to become the first person with an intellectual impairment to complete an Ironman.  He also leads Athlete's Without Limits' Bend-based Ambassadors Team of community athletes who ride, run, ski, race, and volunteer support to our mission and programs.
In addition to his coaching and leadership role with Athletes Without Limits, Barry has been focused on deep end juvenile justice reform both as a consultant with the Annie E. Casey Foundation and in leadership roles including Deputy Director of Washington DC's Department of Youth Rehabilitation Services (2005-2012) which has been undergoing historic reform. More recently Barry has partnered with WMFDP, a group immersed in the important work of DEI (diversity, equity and inclusion) for more than twenty years. During the winter wonderland in Bend, Oregon he spends his weekends teaching youth to Nordic Ski including athletes with intellectual impairment in a partnership with the MBSEF Stevenson Youth Skiing Program.
As a researcher, teacher, service provider, administrator, advocate, consultant and coach Barry has been deeply involved in eliminating society's reliance on prisons and other institutions to deal with social problems and the disastrous effects this has had on communities of color. His research and commentary have appeared in multiple media outlets in the US and abroad.  Since earning his Masters degree from George Washington University, Barry has dedicated his professional career to social justice through research, advocacy and government leadership and his personal life to good training, good eating, good deeds and good friends.