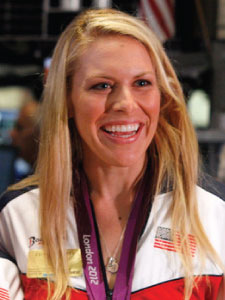 Being able to be a part of Athletes Without Limits is an incredible experience. I'm invested in every athlete, supporting them through the hard pieces and celebrating their successes. Athletes Without Limits is a call to action for anyone who believes in the Olympic Dream…
Olympic Gold Medalist Esther Lofgren helps us fulfill our mission of providing athletes with intellectual impairment the resources they need to compete as high-level athletes.  As a volunteer coach for our Washington DC-base Athletes Without Limits/DC Strokes Rowing program she works one on one with athletes and serves as spokesperson at fundraising events.
Esther continues to compete nationally and internationally, most recently at the 2013 World Rowing Championships, training for the 2016 Olympic Games in Rio de Janeiro, Brazil.
Website: www.estherlofgren.com