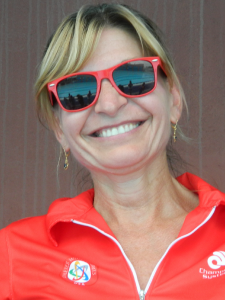 Celeste became involved with Athletes without Limits through swimming and, after seeing the need for more community involvement and brand recognition, is embracing the role of both Board Member and National Masters Swimming Director and Coach. In addition to leading the Athletes Without Limits US Masters Swim Team based in Orlando, Florida, she works tirelessly to gain more support all swimmers with intellectual and developmental disability as they reach to represent the US in national and international competitions. Additionally she is a member of the Inas International Swimming Committee and is an Assistant Coach for the U.S. Paralympic Swim Team.
Celeste's passion for Athletics is life long — in addition to being a USA Swimming Certified Swim Coach she was a long distance runner for many years, has a green sash is Shaolin Kung Fu, and has been a certified Aerobics instructor.  Celeste completed the Partners in Policymaking program in Florida which a leadership and advocacy training program that teaches self-advocates and parents to be community leaders for individuals with developmental disabilities.
In her 20 year history with the hospitality industry, she has held positions as Director of Marketing, Training, and Operations in major development projects in several states.  She currently supports the Senior Vice President of Marketing for Wyndham Vacation Resorts coordinating all contracts for the Southern Business Unit.