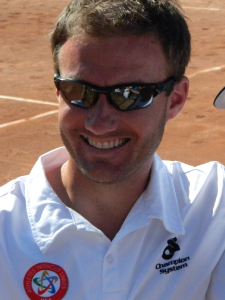 Jonathan Sarosiek is a USPTA certified Elite Professional Tennis Player and a full time member of the Wintergreen Resort Tennis Staff.
Together with fellow coaches Jack & Diane Barker, he led Athletes Without Limits' newly-formed US National Tennis Team for athletes with intellectual impairment to its first appearance at the 2014 Australian Tennis Championships (at the Australian Open) and the 2014 Inas World Tennis Championships in France.
Jon played Division I collegiate tennis at the University of Montana and was the Assistant Men's Tennis Coach at Division III Methodist College in North Carolina. At Methodist, the team finished in the top 30 in the country each year, while producing two All-Americans.